On The Trail Of 'Israel's Petra': Amram's Pillars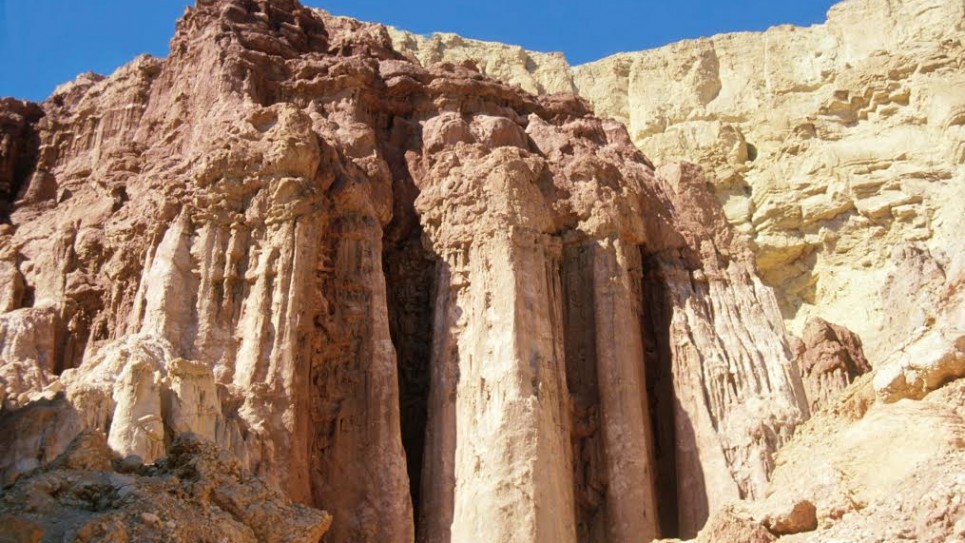 Five towering pillars carved out of sandstone by water, they make for a stupendous sight, and you don't need a camel ride to get there
Lately, almost all of our tourists have been cutting their time in Israel short so that they have a day or two to visit Jordan's Petra. But, as it happens, this country can boast majestic structures of its own. Amram's Pillars, colossal columns that could have come straight out of a pagan temple, are a natural phenomenon located within the dazzling Eilat Mountains Nature Reserve. You don't need to ride a donkey or straddle a camel for this trip (which you may have to do if you can't handle the walk to Petra); in fact, Amram's Pillars are astonishingly easy to reach. You will find them off the main desert highway (#90) eight kilometers north of Eilat. And winter is the perfect season for your visit.
Turn at the sign for Amram Pillars and Wadi Shehoret. Soon afterwards you pass a daemia plant, a climber with heart-shaped grayish leaves and a velvety texture that blooms from February to April with flowers that are brownish-yellow to white.
The leaves contain a poisonous substance that repels most insects. Indeed black-and-yellow grasshoppers are the only insects that find nourishment in the daemia. The grasshopper's venom – a fluid that severely irritates the mouth and eyes — is produced partly from the daemia's liquid.
A few dozen meters further, also on your right, you will see one of the region's rare leafless silk vine plants. Although from a distance the silk vine looks dry and dead, from March to May it contains tiny, deep red blossoms surrounded by a halo of white strands.
Other winter flowers include the light purple thorny zilla and furry-leaved yellow fleabane. The fleabane blooms until June, its size dependent on the amount of rainfall during the year. Containing a sweetness unusual for a desert herb, fleabane is delicious in tea. Bedouin claim this tea relieves stomach pain.