Beyond The Walls: Churches Of Jerusalem
written by Aviva Bar-Am
Beyond the iron gates and stone walls of the Holy City's historic churches are fascinating tales just waiting to be told.
Beyond the Walls: Churches of Jerusalem takes you into the heart and soul of 30 Jerusalem churches and reveals hitherto unknown secrets. Entertaining folk tales, inspiring legends, and exciting historical narratives keep you riveted to the pages, as you gain insight into what goes on beyond the walls today and what happened there in the past.
Special attractions:
Includes a detailed guide to the Church of the Holy Sepulcher!
Glossary of relevant terms
Significant Eras in Jerusalem History
User-friendly index for easily locating the chapter you want
Order now
From our New York supplier: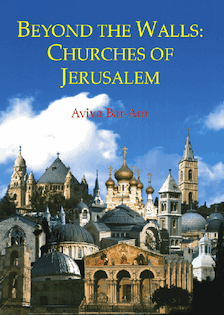 $17.95  Shipping:$5.00 USPS
Priority $10.00
Also available in German!
.