In Bits And Pieces: Mosaic Splendor At Tzippori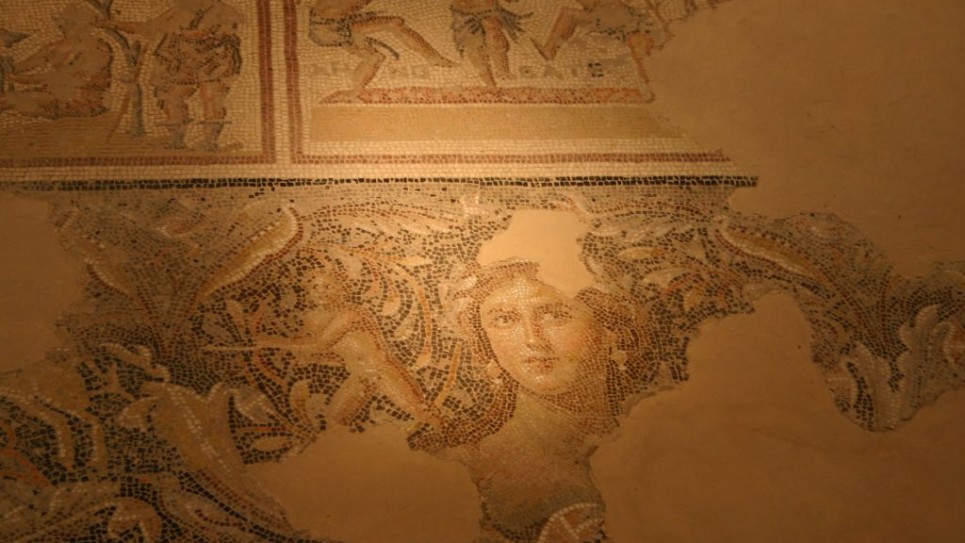 From the Akeda to 'Mona Lisa of the Galilee,' the wine drinking contest of Heracles and Dionysus, and the angels telling Sarah and Abraham of their impending parenthod, Tzippori is a wealth of ancient art
In the year 67 CE, residents of Tzippori watched in somber silence from across the valley as the town of Yodfat went up in smoke. Yodfat, the first Galilean city to seriously resist the Romans during the Great Revolt, had been soundly trounced. Tzippori, on the other hand, had stubbornly refused to participate. Her attitude was understandable, perhaps, for 63 years earlier when Tzippori residents had tried rebelling against Roman rule, their lovely city had been destroyed.
Following that early Tzippori revolt, King Herod's son Antipas had restored the city to its former beauty. And, while he was at it, Antipas added a small theater and an intricate underground water system. Now, blessed with plenty of water, fertile fields flowing with milk and honey, and lovely homes, Tzippori hoped to remain at peace with the Romans. Or, perhaps, she was afraid to risk everything she had by joining the revolt. Whatever the reason, Tzippori remained untouched.
Tzippori rested on a hill 292 meters above sea level, towering over the Beit Netufa Valley below. Her climate was perfect, for even in summer the city remained cool, as sweet breezes blew softly through the trees. Her name reflected her situation: the Babylonian Talmud notes that she "sat at the top of the hill like a bird" (tzippor).
The most famous of Tzippori's residents was Rabbi Yehuda Hanasi, tall, handsome, and extremely well-connected. One of the greatest Jewish sages of all time, it is said that he was born on the day that Rabbi Akiva was flogged to death by the Romans for his part in the Bar Kochba Revolt of 132-135 ("the sun rises and the sun sets and hurries back to where it rises" (Jewish sources quoting Ecclesiastes 1:5).