Trip Of The Month: Eilat's Dolphin Reef
What is it about a dolphin that makes this gentle creature so willing to trust human beings?  Highly intelligent, compassionate and friendly, dolphins have no natural enemies – except man. Yet the dolphin is the only wild animal on earth that has established an unconditional bond with humans and truly enjoys constant contact with people.
For over two decades, staff and visitors at Eilat's Dolphin Reef have justified the dolphin's blind faith. Located three kilometers south of the city, directly across from Jordan's stunning Edom Mountains, Dolphin Reef was established in 1990 by marine biologist Ron Zilber.  His dream was to create an ideal environment, a high living standard for the dolphins in which mutual respect and unconditional goodwill were paramount. In such an atmosphere, he believed, dolphins and humans could enjoy and benefit from one another.
The setting was to be non-restrictive and non-coercive: dolphins were never to be compelled to perform for their dinner or forcibly restricted to their new home. When they wanted safety and the comfort of their families, dolphins could live in a comfortable 10,000 enclosed square meters in the sea. But when they craved adventure, they could move through a passageway and into the open waters, in exactly the same way as humans walk in and out of their doors.
Today a group of bottle-nosed dolphins, including half a dozen youngsters, live at the Reef. You can stand on the pier and watch their daily frolics, or lie in the water and enjoy the sight. Try and tell the dolphins apart: each has its own personality (like Shy, who is bashful) and special markings.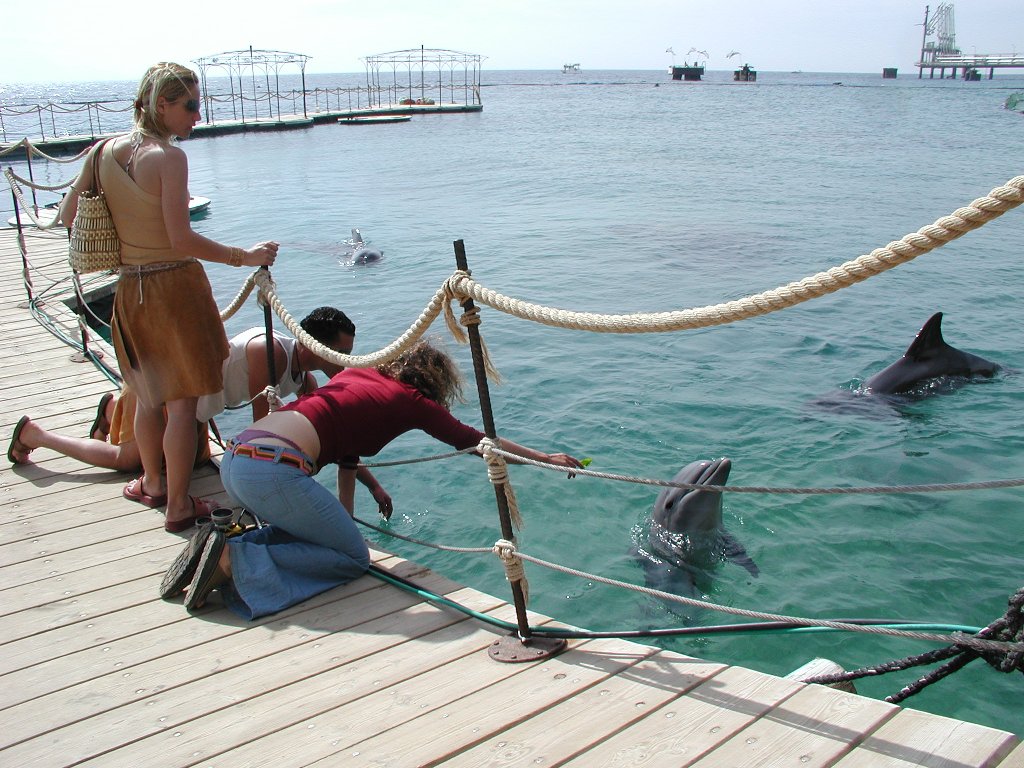 Contact with dolphins is unbelievably soothing. At the Reef you can snorkel with dolphins, watch them play under water and feel them swim next to your legs. It is tremendously exciting to wait for a dolphin to leap up from the depths; sensational when it comes close enough for a stroke.
I find scuba diving is even more surreal, and serene, for you feel at one with the water, detached from the realities of life, and pray your experience will never end. The dolphins are friendly, playful, gentle and undemanding, and they tug at your hearts. You want to give, and get, their love.
Imagine what this kind of feeling can mean to a dysfunctional or disabled child. Imagine the thrill of giving and receiving unconditional love and trust. Every year a small number of children participate in the Reef's "Supportive Experience" program, therapeutic training and swimming encounters with the dolphins. Children come from all over the world to take part in this experience; they are aged 7-14 and suffer from learning disabilities, visual and hearing disabilities, hyperactivity and autism. Some have been the victims of sexual abuse, or suffer from depression and other mental illness.
During the sessions the child approaches the dolphins gradually and eventually learns to communicate with this warm and loving wild mammal.  As child and dolphin move together in the water, the spontaneous contact, the touch of the dolphin's nose, its sounds and eternal smile teaches the child that he and his disabilities or problems are not in the least repelling. The result often includes a dramatic increase in self-confidence along with a new ability to express emotions.