Meet The Makuya, Israel's Most Unwavering Supporters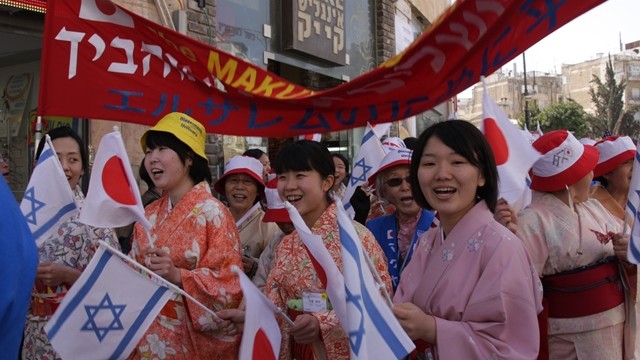 Abraham Teshina's 'New Zionism' movement was born in Japan in May 1948, as Israel declared independence. It was no coincidence.
For some time now, I've been singing the Israeli National Anthem with less fervor than in the past. Indeed, despite the Zionist zeal that brought me to Israel nearly five decades ago and which will undoubtedly keep me rooted to this country forever, I may have become a bit jaded. And so have many of my friends.
Small wonder, then, that when a group of us spent an evening with members of the Japanese Makuya in Jerusalem, we could barely hold back our tears. For when they sang "Zion, Zion, Zion" under the Israeli flag, their enthusiasm and shouts of joy could have raised the roof. With a collective lump in our throats, my friends and I were carried back to a simpler time, when it had all seemed only a matter of survival – and Israel had somehow survived.
The Makuya movement was born In May of 1948, the same month and year in which Israel declared its independence. But the Makuya don't believe in coincidence. In fact, they consider the establishment of the modern State of Israel and the reunification of Jerusalem 19 years later to be the fulfillment of biblical prophecies, miraculous works of God.
Often called New Zionism, the Makuya movement was founded by a successful Japanese businessman, the late Professor Abraham Ikuro Teshima. Professor Teshima was a deeply religious Christian who had early on become disenchanted with the established Church and its western trappings. But he hadn't yet heard the Divine voice. That would come later, a few years after World War II.
Following the Japanese defeat, Teshima tried to help his starving countrymen by producing bread out of seaweed. But it tasted awful, and the factories closed down. Then an American army camp near his home decided to expand. Teshima heard the news from his son, who reported with sorrow that the Americans were planning to close his elementary school and take over the property on which it stood.
Teshima immediately organized a large protest that greatly angered the Americans. When a friend warned Teshima of his imminent arrest, he went into hiding in the wilderness. It was while he was in the volcanic Aso Mountains that he had a personal encounter with God, and heard a phrase from the book of Amos: "I will send a famine in the land, not a famine of bread, nor a thirst for water, but of hearing the words of the Lord."