Life Springs Eternal At Ein Gedi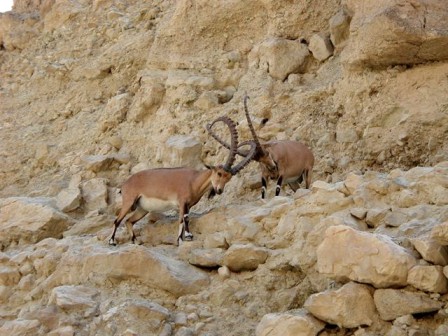 Among the Second Temple-era ritual baths and ancient mosaic ruins, you can spot sparring Nubian ibex, hyrax watchguards, Tristam's grackles — and the dreaded Apples of Sodom
No one can say with certainty why the flourishing Jewish settlement at Ein Gedi abruptly ended sometime in the 6th century. We know that a conflagration destroyed the community's handsome synagogue. But what caused the fire? What befell the settlers?  And what happened to the secret they carried hidden within their breasts?
A delightful autumn outing begins at the regional Society for the Protection of Nature in Israel (SPNI) Ein Gedi Field School — along Highway 90. Climb the steps and then mosey over to the field school overlook, to come face to face with grazing Nubian ibex. Their muscular bodies and short legs make them well-adapted to life in the desert hills. An ibex has a special groove in its hoof that makes cliff-climbing easy and mountain climbing shoes are often designed according to the ibex hoof.
Don't be surprised to see a coal-black starling with orange-striped wings standing on an ibex's head. Songbirds, identified by English clergyman and naturalist Henry Baker Tristram in the 19th century, are known as Tristram's grackles, and they have a symbiotic relationship with the ibex. In fact these unusual birds dine on a parasite that munches on ibex fur!
Read the full article over at The Times of Israel.