In Jerusalem's Teeming Mahane Yehuda, Rubbing Shoulders (literally) With Everyman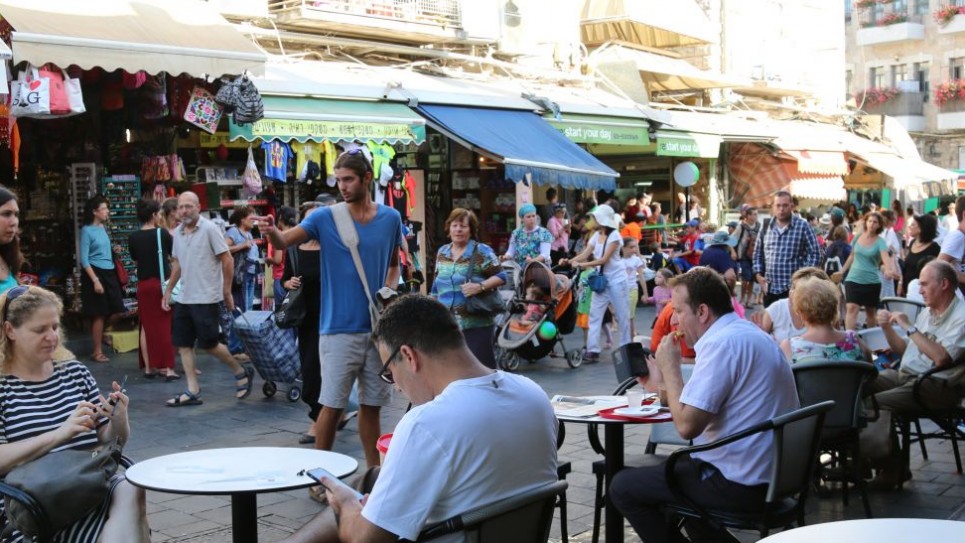 The capital's vibrant fruit and veggie mecca is a lot more besides, and the adjacent Ohel Moshe neighborhood is full of surprises, including a neon sign- adorned synagogue ark.
Anyone walking thorough Jerusalem's famous Mahane Yehuda Market soon learns the real meaning of "rubbing shoulders" (literally) with people from all walks of life and nationalities. On Fridays, especially, both covered and open markets are incredibly crowded – and lively. It's exciting to hear the unceasing cries of merchants hawking their produce, and the displays of fruit, vegetables and spices in riotous color are a feast for the eyes.
Hard to believe that the market started out as an open-air Arab bazaar over a hundred years ago.
On your next visit to Jerusalem, whether tourist or Israeli, experience for yourself the exquisite sounds and sights of the marketplace. Stroll down tiny lanes whose names sound like the market itself: Shaked, Haruv, Afarsek, Shazif, Egoz, Tut, Tapuah And Agas (Almond, Carob, Peach, Plum, Walnut, Mulberry, Apple and Pear). And while you are here in the Holy City, why not wander through the picturesque Ohel Moshe neighborhood – background for a famous play – right across the road?
Master storyteller Eliyahu Banai was one of the earliest merchants to set up shop on Agas (pear) Street in Mahane Yehuda. And that's where his famous grandson Yossi grew up, in a tiny apartment above the family's vegetable stand. Yossi Banai, who died of cancer in 2006, inherited his grandfather's talents: in 1998 he received the Israel Prize for his immense contribution to Israeli theater as actor, playwright and chansonnier. Many of his best comedy sketches were about his childhood in Mahane Yehuda and the surrounding neighborhoods.