Echoes Of Jesus In The Valley Of The Cross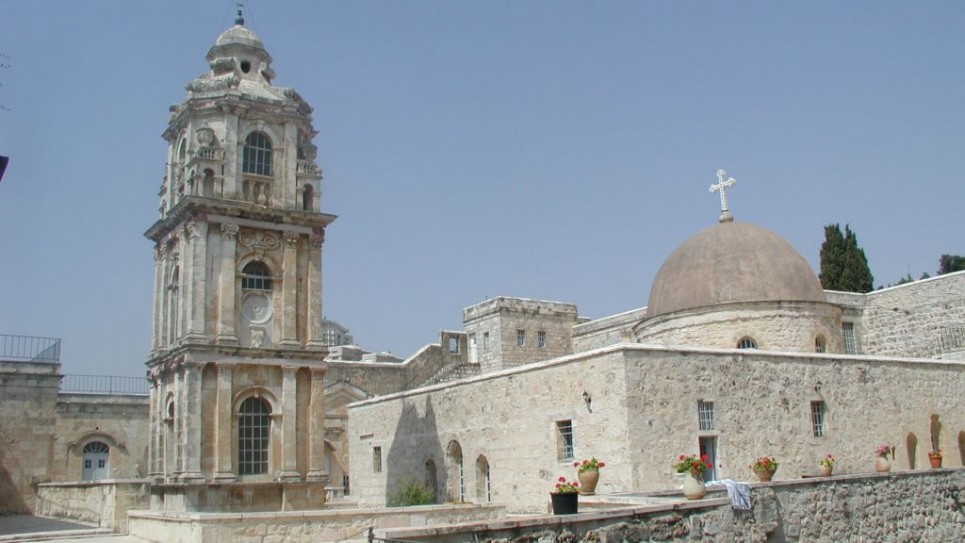 More fortress than cloistered sanctuary, the 10th century Monastery of the Holy Cross was constructed west of old Jerusalem around the site of the tree stump from which the holy cross was fashioned.
What kind of tree provided wood for the cross on which Jesus was crucified? The answer dates back to back to Abraham, who was well on in years when three staff-carrying angels ventured into his tent. After predicting that Sarah would become pregnant despite her advanced age they continued on their way, leaving their staves behind them.
Later, when fleeing Sodom with his daughters, Abraham's nephew Lot committed the terrible sin of incest (Gen. 19:31-35). He confessed to his uncle, who suggested that Lot plant the staves in Jerusalem as a penance. Should they grow together into a flourishing tree, it would be a sign of God's forgiveness, he said.
Lot took his task seriously. Each morning he went with his donkey to the Jordan River and, laden with holy water, he returned to the fertile valley in which he had planted the staves. Eventually they combined into a special triple-crested tree.
Much later, this singular tree was chopped down to make beams for Solomon's Temple. But the beams were either too long, too short, or their ends curled up when put into place. Solomon's workers cursed the beams, and cast them aside.
According to legend, a thousand years later the ill-fated beams were rediscovered, and used to fashion Jesus's cross. Centuries later, when the Persians invaded Jerusalem in 614, they plundered the holy sites and carried off the cross. The cross was recovered a decade later by Byzantine Emperor Heraclius, who crushed the Persians in a series of brilliant campaigns. Tradition holds that on his way back to the crucifixion site, to which he would return the cross, he stayed overnight in a secluded valley several kilometers west of Jerusalem – today known as the Valley of the Cross. As he slept, the holy cross rested next to the stump of the tree that had furnished its wood.