A Six-sided Swim In The Golan's Hexagon Pool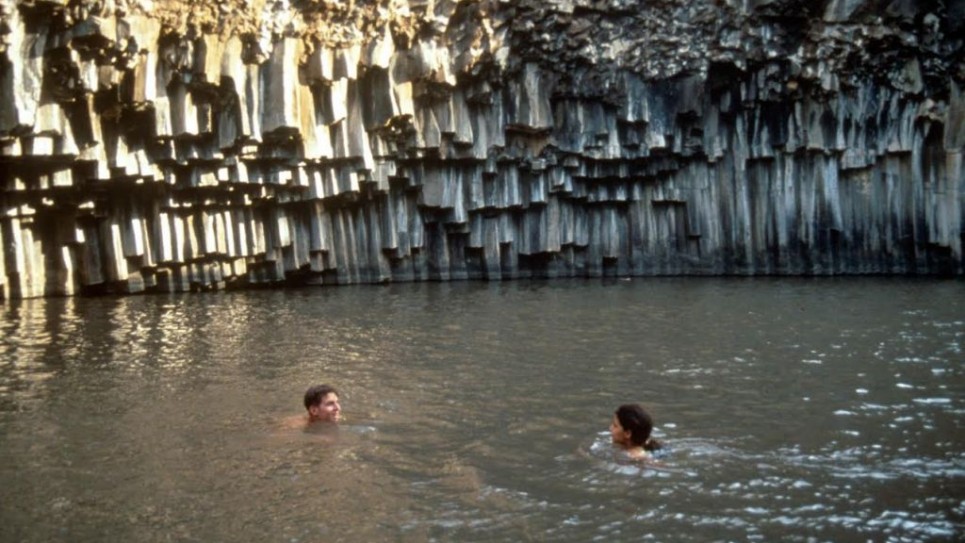 Unique basalt columns are just one of the remarkable features of the Heights' longest stream, as it flows toward the Sea of Galilee.
Long ago, thick molten lava at a temperature of over 1,000 degrees centigrade streamed across the Golan Heights – then a flat expanse of plain. When it stopped flowing and began to cool, the solidified basalt rock started to crack. Six‑sided basalt columns formed as a result of the cooling and were exposed after strong waters forced their way through the basalt and formed a gully, the Hexagon Riverbed. Today, the Hexagon Pool is one of the Golan Heights' most remarkable attractions, combining magnificent six-sided cliffs with chill waters and luxurious foliage.
The Hexagon River flows through the eastern portion of the Yehudiya Nature Reserve, named for the nearby ancient Jewish village of Yehudiya which flourished during the 4th century. Well-preserved Atlantic terebinth and Tabor oak lining the slopes from this portion of the trip onward are part of the Yehudiya Forest.
Christ thorn jujube trees can be seen along both sides of the road as you near the reserve. In areas where the Tabor oak covers the slopes there are far fewer jujube, but in this area human-made damage has thinned out the oak and the hills have been taken over by the quickly spreading jujube. This species of jujube is thought by some to be the source of the thorny crown Jesus of Nazareth wore on his last journey. It bears drupes that Israelis call domim, a tiny edible fruit whose taste is reminiscent of American crabapples.
A tropical tree that suffers from the cold, the Christ thorn jujube is replaced by the lotus jujube on the upper edges of the Yehudiya Forest. Looking far more like a shrub than its brother jujube, the bushy variety is lower, rounded and has a number of trunks.